Highlights Of Italy – 10 days tour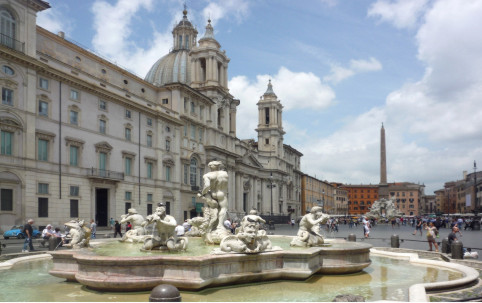 Day 1 – Arrival of the group at Malpensa airport and meet your tour leader at the arrival hall and transfer to Verona. Guided tour of the city with professional english speaking guide, after a panoramic drive by bus you will walk through the city and you will visit Romeo's and balcony, and the Arena , ancient Rome masterpiece, at the end of the visit , free time for lunch. After lunch departure for Abano Terme arrival and chech in Hotel. Dinner in the Hotel and overnight
Day 2- 08.00 am after breakfast departure for a full day escursion in Venice. Once in Venice transfer to St.Mark square by private water taxi, guided tour of Venice with professional english speaking guide, you will see St. Mark Square, bell tower, the Basilica of St. Mark bridge of sights. At the end of the tour you will have the chance of discover hidden Venice through ist canals, on a gondola ride. Free time for lunch and personal visit. At 17.30 meet the tour guide in St. Mark square and return by water taxi to the Tronchetto and by bus
return to Abano Terme, dinner and overnight.
Day 3- 08.30 After Breakfast bord the bus and departure for Florence. Arrival in Florence at 12.00 guided walking tour tour vith the visit of the academy of fine arts wher you can admire Michelangelo works, then you will continue to the Duomo, the Baptistery, Giotto's bell tower, the tour will end in Santa Croce Square. Free time for shopping and visits of Ponte Vecchio. Depart from Florence for for a wine tasting through the beautiful tuscany countryside with ham, choice of salamis, cheese,pasta dish, sausages, beans seasoned.with olive oil salads and for dessert the famous wine "vin Santo DOC accompanied with the typical wine- very good, coffe and grappa.
At the end of the wine tasting return to Hotel and overnight.
Day 4- 08.30 After Breakfast depart the Hotel for full day escursion to Siena and San Gimignano.
Once in Siena meet the local guide in front of S. Domenico church and start the visit on footh of this beautiful town, you will see, The Bank of Monte dei Paschi di Siena, Piazza Del Campo, famous for the horse race and the Duomo. At the end of the visit, you will reach by bus a famous farm House near S. Gimignano. You will stop there for a typical tuscanian lunch. After lunch continue to S. Gimignano, visit of this famous and characteristic town named the 100 towers town. Around 18.00 pm. Return to Hotel dinner and overnight.
Day 5 - 08.30 After Breakfast departure to Rome, once in Rome, quick
lunch in a pizzeria in the Vatican area followed by the Visit of the Vatican Museums and the Basilica of St Peter's.
At the end of the tour, by bus transfer to Hotel . Dinner transfer down town . After dinner return to Htl and overnight
Day 6- 08.00 After Breakfast depart the hotel for a tour of Rome with the visit of the Colosseum
from outside, roman forum, Venice Square, Trevi Fountain, Pantheon and Navona Square.
Lunch in a typical restaurant near Navona square after luch free time for shopping. At 19.00 return transfer to Hotel and overnight.
Day 7- 08.30 Departure from the hotel for Tivoli, escursion in Tivoli and visit of Villa D'Este, free time and lunch in a typical restaurant. After lunch departure for Sorrento, check in the
Hotel dinner on your own and overnight.
Day 8- 08.30 Depart the hotel for full day escursion to Napoli and Pompeì. . After the visit of the escavations of Pompei continue to Naples for lunch after lunch will start a guided tour of Naples and at the end of the tour return to hotel and overnight.
Day 9 – 08.30 departure for the Amalfi drive and enjoy the beauty of the peninsula sorrentina.
Lunch in Amalfi after lunch departure for Rome.Arrival in the Hotel chech in and overnight
Day 10- Transfer to the airport for the all group Departure for your own destination
If you like this trip please contact us we will provide you with costs according to the number of pax antd to the season